Weds January 19, 2005 at 7:00pm, New Roads School (map)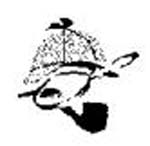 At this meeting, Edwin L. Jones, Jr., Ventura County Sheriff's Laboratory of Forensic Sciences and MSSC member, will present a talk entitled, "Trace Evidence and Bloodstain Interpretation from the Sanchez/ Barroso Case." In it, he will cover the trace evidence of this case which included red hexagonal glitter, paint transfer, bumper rub strip plastic transfer, analysis of car wax, identification of almond bits and comparison of road dirt. The techniques used in the analysis, identification and comparison of these varied substances, such as microscopy and Fourier Transform Infrared Spectroscopy (FTIR), will be discussed. Photos used to make court room displays will be shown. The evidence presented by Mr. Jones led to the suspect being found guilty of murdering Megan Barroso and sentenced to death.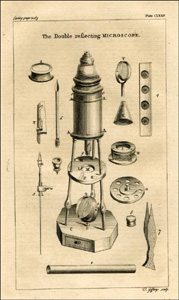 Weds February 16, 2005 at 7:00pm, New Roads School (map)
At this meeting, MSSC President, Jim Solliday, will present, "An Introduction to the Light Microscope and its History." Very few instruments have contributed to the advancement of knowledge more then the microscope. In fact the introduction of the microscope represented one of the new tools that inspired man kind into a new age of science. In this talk a historical overview will be presented illustrated by a slide show. The intention of the presentation will be to open a small window into the development of the microscope and remind the viewer what was achieved up and to the introduction of the achromatic objective. For over 400 years the microscope has both amazed and motivated men to look ever deeper into our natural world. The numerous and uncountable discoveries have both created controversy and revelation for generations of investigators. Today almost all of our understanding of how nature is built, including our own anatomy, has been revealed by the microscope. We now owe the existence of everything from the computer processor to genetically engineered medicines to the microscope. To see is to understand, and nothing has increased out ability to see more than the microscope.
Weds March 16, 2005 at 7:00pm, New Roads School (map)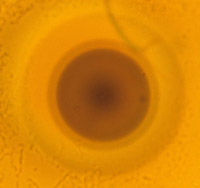 At this meeting, Dr. Mark Armitage, will present a lecture on zircons found in granites and the radiohalos that accompany them. Zirconium silicate (ZrSiO4) or zircons are microscopic, stubby, prismatic crystals characterized by high hardness and density and a high melting point. They are found in high numbers within the biotites of granites and granite-like rocks. Dr. Armitage studied zircons which ranged in length from 30 to 100 µm and in width from 5 to 30 µm. It is within these zircons that the radioactive elements such as Uranium and Thorium are localized and concentrated. The decay of radioactive elements within the zircons produces helium. Comparing two isotopes of radiogenic lead, it has been calculated that 1.5 billion years worth of nuclear decay has occurred in the zircons, assuming as usual that nuclear decay rates have always been constant. The problem is that helium diffuses quickly out of zircons, and the zircons studied have significant amounts of helium in them. Microscopes will be set up to illustrate examples of the material the speaker will be describing.
Weds April 20, 2005 at 7:00pm, New Roads School (map)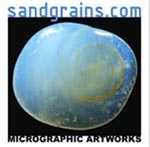 At this meeting, Dr. Gary L. Greenberg will give a talk titled, "Three Dimensional Microscopy in Science and Art." Dr. Greenberg is the inventor and developer of Edge high-definition three-dimensional light microscopes. These instruments have been used worldwide in both biological and physical sciences, and they have proved particularly useful in studies of the nervous system, developmental biology and geology. He will present a brief history of three-dimensional microscopy, beginning with Ramon y Cajal in 1911, to present-day 3D imaging technologies. Dr. Greenberg is now using these instruments to create micrographic artworks. In particular, he has focused his attention on capturing the beauty of individual grains of sand. He will show sand grain images he exhibited in a solo art exhibition in Hawaii, called Maui Sand. For more information about this subject see: www.sandgrains.com and www.edge-3D.com.
Weds May 18, 2005 at 7:00pm, New Roads School (map)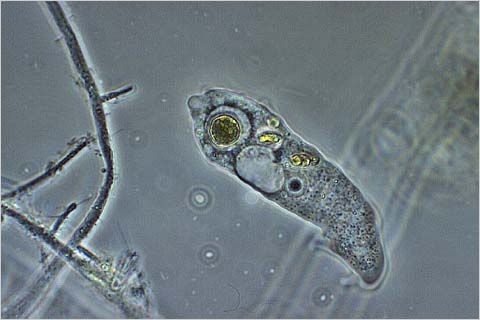 The Pond Life program is undoubtedly one of our best attended and most exciting meetings! Members are strongly encouraged to bring pond water, ditch water, fountain water or anything that lives in water. Microscopes, illuminators and pipettes and tools to play in the water are required.(Extra microscopes are always a good thing to bring for guests to use.) Check out the amoeba to the right, courtesy of www.micrographia.com.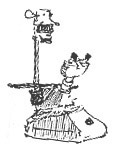 Weds June 15, 2005 at 7:00pm, New Roads School (map)
At this meeting Mr. Dave Wietbrock, a very experienced microscope service specialist, will give a talk and hands-on activity entitled, "Cleaning Techniques for Microscopes." Mr. Weitbrock operates his own service business, but prior to this worked for 12 years with A.G. Heinz. Bring along one of your microscopes to work on. Mr. Wietbrock will provide a cleaning kit with essentials for all members present. The subjects Mr. Wietbrock will be covering will include care of all optical surfaces, solutions and lubrications. After the break, our Education Chair, Alan deHaas, will talk about
light emitting diodes and their application in proper illumination.
Weds July 20, 2005 at 7:00pm, New Roads School (map)
At this meeting Dr. Patrick Joseph Krug will give a presentation entitled, "Sex, lies, and digitized video tape: larval development and habitat choice in sea slugs." Most animals that live in the sea produce microscopic larvae that are difficult to study due to their small size. Larvae swim in the plankton until they locate a suitable habitat on the bottom, where they settle and metamorphose into the adult form of the animal. Dr. Krug studies how such tiny organisms can accomplish this task in a place the size of the ocean. His focus is on a group of sea slugs that are highly picky eaters: each species lives and feeds on only one type of seaweed. Their larvae therefore have to find, recognize, and attach to the right kind of seaweed; chemicals from the seaweed then trigger their metamorphosis into a juvenile slug. Slugs produce their larvae through a prodigious sex life that would make many blush; he will also discuss group sex, hypodermic insemination, frustrated virgins, and other facets of reproduction that make these organisms so interesting to study.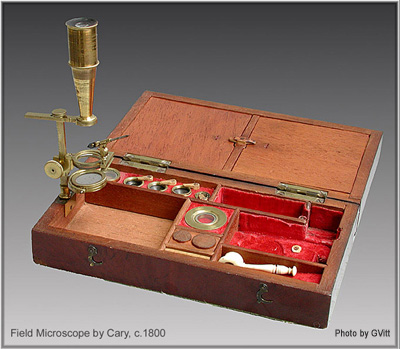 Weds August 17, 2005 at 7:00pm, New Roads School (map)
At this meeting the first speaker will be MSSC Education Chair, Alan deHaas. He will discuss the development of the microscope, in particular, why certain features are the way they are and how they developed. He will help us understand the reasons behind the now standard shapes and mechanical features of a microscope which have become nearly universal in use, and explain why some designs have advantages over others.
After the break, MSSC President, Jim Solliday will give another of his colorful slideshows. One of the main difficulties in photomicrography is getting enough contrast; digital software can be used to enhance, isolate and change all or any part of an image. This slideshow will highlight phase contrast images - which is also the topic of the next hands-on workshop on Saturday, August 20, 2005.
Weds September 21, 2005 at 7:00pm, New Roads School (map) Note this meeting will be in the Yang room instead of the usual Huerta room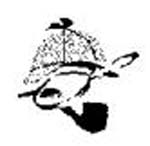 At this meeting, our speaker will be Wayne Moorhead, who is associated with the Orange County Crime lab. He will give a presentation on Chemical Microscopy. Chemical Microscopy has been practiced in the United States since before 1886, when Wormley published his work on "Micro-chemistry of Poisons, Including their Physiological, Pathological and Legal Relations." Chemical microscopy combined chemistry and physics at a microscopic level. The lecture will include a review of optical crystallography, polarizing light microscopy, dispersion staining and microcrystal tests. Examples from a forensic laboratory will show the practical application of the review materials. The second half of our meeting is available for members to contribute short presentations. As usual there will be a place to exhibit items for sale.
Weds October 19, 2005 at 7:00pm, New Roads School (map)
At this meeting our speaker will be Davin Malasarn, a Ph.D. student from California Institute of Technology. His presentation is entitled, "Arsenic Contamination Requires Studies on Every Scale." In Bangladesh, one in four people is poisoned with arsenic from
the water they drink. This fatal contamination was first recognized by the world over twenty years ago, but no solution has yet been found to prevent it. The longer we study the situation, the more we realize that the problem requires the integration of science from every scale. Macroscopic geochemical studies, cultural studies, microscopic bacterial studies, and molecular biochemistry must unite if this crisis is going to come to an end. Mr. Malasarn presentation with illustrate the problem and update us on the difficulties.
Weds November 16, 2005 at 7:00pm, New Roads School (map)
This is the annual Exhibition Meeting of the Society. This is one of the best events of the year and is a great deal of fun. Each member is encouraged to bring along an exhibit to share. Anything associated with microscopic subjects is welcome. Your exhibit could be simple, for example you could set up your microscope with your favorite slide.
A projector will be provided for those bringing 35mm slides. Posters and display boards are also encouraged, along with the usual sales table. Please remember to bring a label or piece of paper with a brief description of your exhibit.
No December meeting, instead the MSSC Holiday Banquet, December, 10, 2006 at 6:00pm at the Earth Wind and Fire Restaurant, 2222 Wilshire Blvd, Santa Monica CA 90403. The program theme will be the Origin and Development of the Light Microscope and MSSC member, Stuart Walter, will give a brief presentation after dinner. Cost $20 per person. Contact Herb Gold to make reservations.