Weds January 20, 2010 at 7:00pm, New Roads School (map)
MEETING CANCELLED DUE TO WINTER STORM. Instead members are invited on a field trip, January 30, 2010 to Ventura County Sheriff's Department Forensic Crime Lab. See members area for further information.
Weds February 17, 2010 at 7:00pm, New Roads School (map)
At this meeting, Prof. Brian Matsumoto will give a talk on Fluorescence Microscopy, which is becoming the predominant research tool of the cell biologist. Fluorescence Microscopy is a staining and illumination technique for envisaging the fine structures of cell. We will talk about fluorescent microscope hardware: the mercury arc illuminator and epifluorescent illuminator as well as the indirect antibody technique staining technique. In addition we will discuss fluorochromes utilization in live cell imaging and the role of fluorescent proteins for studying live cells.


Prof. Matsumoto has recently successfully published a very interesting book on the subject of digital photomicrography. This is a must have book if you have any intention of acquiring images with a digital camera through your microscope. Brian has clearly stated the necessary techniques required to get the most out of your DSLR camera. You will not find a better illustrated guide to the subject as well as a clear and concise description. He will bring about four copies to the meeting for those who have inquired about the publication, and is selling them at the discounted price of $40 at this meeting. If you are interested in this recommended work then you should bring a check or cash as there is no facility for accepting credit cards. For those interested in the book, but unavailable to attend the meeting, the normal US price is $69.95 and the book can be purchasedfrom Rocky Nook Inc.
Weds March 17, 2010 at 7:00pm, New Roads School (map)
For the second in our mini series on specialized contrast techniques for the light microscope, at this meeting Dr. Brian Matsumoto (UCSB) discuss Confocal Microscopy. In standard microscopes, light arising from outside the plane of focus will be projected on the imaging sensor--be it the human eye or a digital detector. For work with transmitted illumination, this is of little import and a high contrast view of a transparent specimen can be obtained. In contrast, for thick fluorescent material, out-of-focus light will obscure the view by generating glare. Confocal microscopes remove this with an aperture sized and positioned to pass only light arising from the plane of focus. This high contrast view is an optical section. Dr. Matsumoto will present micrographs obtained with this technology and show their advantages in biological and three-
dimensional imaging.
Weds April 21, 2010 at 7:00pm, New Roads School (map)
For the third and final mini series on specialized contrast techniques for the light microscope, Bill Johnston, Imaging Sales Representative, Olympus America will discuss image processing techniques. Mr. Johnston is the Imaging software expert and will bring us up to date on the latest image acquisition and processing technology. Many new imaging techniques have been developed in the last few years. Mr. Johnson will not only explain the technology but will take the image from a modern microscope to the computer and illustrate the amazing new features available to the microscopist. We will see how the new systems can maximize the information available with the light microscope.
| | |
| --- | --- |
| Did you know that Olympus runs an annual international photo competition to honor the world's most extraordinary microscope images of life science subjects, called BioScapes? Check out their winners image gallery. | |
Weds May 19, 2010 at 7:00pm, New Roads School (map)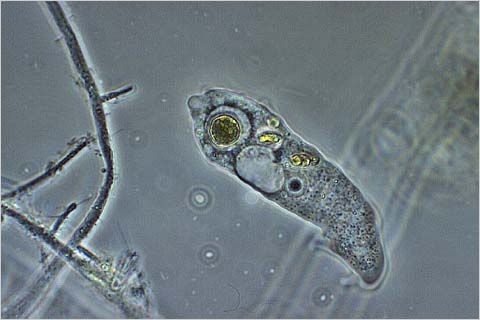 The Pond Life program is undoubtedly one of our best attended and most exciting meetings! Members are strongly encouraged to bring pond water, ditch water, fountain water or anything that lives in water. Microscopes, illuminators and pipettes and tools to play in the water are required.(Extra microscopes are always a good thing to bring for guests to use.) Check out the amoeba to the right, courtesy of www.micrographia.com.
Weds June 16, 2010 at 7:00pm, New Roads School (map)
At this meeting, are venturing out into something a little different, throughout the history of Microscopical Societies members have entertained each other with a tradition of reading relevant poetry. Both in England and in the old European Societies the reading of poetry was a creative expression applied to the limitless possibilities of things seen under the microscope. For the second half of the evening, Alan deHaas will be leading the group in this exciting experiment. All members are invited to share or create something they feel will be of interest to the membership.
The opening presentation will review a subject that can very often greatly affect our personal comfort - allergens. Depending on your level of tolerance for allergens, you may find it fascinating that this year (2010) has been the worst year in recorded history for massive pollen counts. Mother Nature has responded in a big way to the rather late arrival of spring. We will look at how pollen is counted and just where it comes from and what it looks like. This is a major public service effort that still very much depends on the use of the microscope.
Weds July 21, 2010 at 7:00pm, New Roads School (map)
This month Gregg Kleinberg and Brian Matsumoto (UCSB) will share the latest technology in image acquisition. The overall theme for this year has been on image systems for the modern microscope and this month we will focus in on dedicated digital cameras. The camera system in that category that comes to mind is the PAXcam and its choice of a number of models available from that brand. Mr. Kleinberg will introduce the Society to the value this system represents for the microscopist. Experienced photomicrographer, Brian Matsumoto (UCSB) has been testing one of the PAXcam cameras for the past month and he will share some of the results of his experience with the system at the meeting.
Digital SLRs have been used as photomicrography cameras and while they have the virtue of being inexpensive and readily available, scientists have preferred working with dedicated cameras designed specifically for photomicrography. Although such cameras tend to be more expensive, their advantages justify their cost and for the serious user, they are the preferred instrument. Especially for work that requires generating large numbers of images, the dedicated cameras, such as the PAXcams, are invaluable because they provide an ergonomic and convenient tool for the microscopist. Such cameras do not have a mechanical shutter and they provide a vibration free operation that ensures maximum sharpness. Moreover, they communicate directly with a computer and provide an enlarged image of the specimen. Precision focusing is much more easily attained with this arrangement and it is easier and more convenient to achieve high quality photomicrographs with such a camera. For quantitative work with image processing and for quantitative analysis such cameras are the preferred tools. To mount a dedicated digital cameras the majority of research microscopes are equipped with "c" mounts. These are an industrial standard for electronic cameras and consist of a male screw with a 25 mm bore. This limits the pixel array of a camera and many of these are 2 mega-pixels in size. This is not a disadvantage for scientific work; however, it can be a limitation for photographers who create images for magazine reproductions.
To attain this goal, a camera should have at least 6 mega-pixels-- and the PAXcam ARC+ achieves this goal by using what is referred to as--pixel shifting. This enables a 2 mega-pixel sensor to repeatedly sample the image and capture a specimen at an effective sensor array of 32 mega-pixels (6464 x 4864 pixels of resolution). This algorithm is distinct from "up resolution" with software. The former does not increase the data content of the image while pixel shifting technology does. In the case of the PAXcam ARC+, an image file of approx. 105MB size in BMP format can be achieved. One additional important point is that most other pixel shifting cameras use piezo-controlled devices, which can fail in moist or warm atmospheres. The PAXcam ARC's use a sub-micron shift technology that is not affected by ambient temperature or humidity.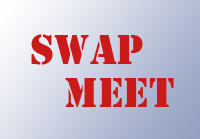 Saturday, August 18, 2010 at 7:00pm, New Roads School (map)
We're turning this meeting in a Swap Meet. We are hoping to have all the tables in the room full of items available for sale. This is your chance to sell things that you no longer need and the chance to find items that you may have been looking for.
Weds September 15, 2010 at 7:00pm, New Roads School (map)
This week Damara Gebauer, Field Application Scientist from Cambridge Research Instrument Division will discuss some of the newest technology in multispectral imaging in microscopy. A very new and advanced system has been developed for extending the advantages of fluorescence (and other) methods of using image markers. This new technology almost completely eliminates the problems of signal to noise in resolving labeled specimens.
CRI's multispectral imaging systems enable users to quantitate molecular markers even when they are co-localized in a single tissue section, producing clear and accurate images of each individual label on a multi-label tissue section. These systems also offer the powerful capability to unmix and remove autofluorescence in fluorescence images, thereby dramatically increasing signal-to-noise and improving the accuracy of your results. Nuance systems deliver flow-cytometry-like data while preserving the morphological context down to the sub-cellular level." InForm™ is a train-by-example software platform that can be readily trained to separate image regions into appropriate classes ('cancer', 'stroma', 'inflammation', e.g.) with unprecedented accuracy. It can be combined with specific segmentation and quantitation tools to extract molecular data automatically from appropriate cellular and tissue compartments, information necessary for designing and testing targeted diagnostic and therapeutic reagents.
Weds October 20, 2010 at 7:00pm, New Roads School (map)
MSSC member, Stuart Warter - an expert in the art of nature photography - will kick off this meeting with a presentation of some of his photographs of birds.
For the rest of the evening, we plan on something a little different, something that will require the actual use of a microscope. Allan has acquired a marvelous collection of slides illustrating parasites. Alan will show the slides on the microscope using a video camera and monitor. There will be a discussion on the contents of the mounts.
Weds November 17, 2010 at 7:00pm, New Roads School (map)
This is the annual Exhibition Meeting of the Society. This is one of the best events of the year and is a great deal of fun. Each member is encouraged to bring along an exhibit to share. Anything associated with microscopic subjects is welcome. Your exhibit could be simple, for example you could set up your microscope with your favorite slide. A projector will be provided for those bringing 35mm slides. Posters and display boards are also encouraged, along with the usual sales table. Please remember to bring a label or piece of paper with a brief description of your exhibit.
Also note that on November 6, 2010 the Hammer Museum in Los Angeles wil be hosting the Enormous Microscopic Evening, an interactive exhibit of Machine Project This free public event dedicated to performed microscopy will feature demonstrations of research and equipment from scientists, technical innovators and amateurs who use these instruments as an integral aspect of their work. Participants include representatives from Stanford's Clark Center, the Fletcher Lab at UC Berkeley, the LA Museum of Natural History, USC and the San Francisco Exploratorium amongst others. In addition to demonstrations and activities that will bring attention to the field of microscopy this program will have screenings and a workshop on how to build a web cam microscope and the original Leeuwenhoek viewing apparatus.
No December meeting, instead the MSSC Holiday Banquet, December 12, 2010, 5:00 - 9:00 p.m.
The Holiday Banquet is set for Sunday, December 12th 2010. Come and celebrate the completion of another wonderful year with fellow MSSC members. The gathering will be at the Earth Wind & Flour Restaurant, 2222 Wilshire Blvd., Santa Monica, CA 90403. Phone 310 829-7829. Please bring cash as there will be no individual checks. Dinners are about 10-20 dollars depending on what you order from the menu.
The program will include our annual report and by request a colorful Christmas show represented by images never yet seen taken by the master of photomicrography, John Chesluk.
Please rsvp to MSSC President, Jim Solliday if you plan on attending. jlsolliday @ roadrunner.com.