Weds January 15, 2014 at 7:00pm, New Roads School (map)
Our first gathering for 2014, will feature a presentation entitled, "Strange Creatures - Aliens." You will be introduced to some of the strangest creatures you can imagine, the question will be, are they from earth or somewhere unknown. You will have to decide if they are the most beautiful creatures you have ever seen or the ugliest? You are invited to check this out for yourself.
Time permitting, we will also show some more chemical slides from the Chesluk collection that was recently discovered and returned to our Society. John Chesluk was one of the best photomicrographers ever associated with MSSC and a founding member. To say that he produced stunning images would not adequately describe his work, which was featured at last month's MSSC Holiday Banquet. This presentation will include slides that did not make it into the holiday show.
Weds February 19, 2014 at 7:00pm, New Roads School (map)
This talk and PowerPoint slide show is entitled "My Adventures with a Microscope," by Glenn Shipley, might well have the alternative title, "Confessions of a Junkyard Microscopist." Please see the abstract below for further details.
"Addressing this distinguished group, which clearly demonstrates the members' commitment to 'raising the bar' when it comes to doing microscopy, my own major interest is in lowering it – literally and figuratively. So while I have earned my living mostly working with a microscope as a medical technologist, my love affair with the instrument started much earlier and blossomed much later. I will discuss not only how that interest started, but also how it exploded as I approached retirement. You will get a virtual tour of my home lab, as a well as a sampling of the sorts of things I have looked at and invented. But towards the end of this talk I will beg for your tolerance as I describe some of my outreach efforts and their puzzling frustrations, as well as the way I see the problems that 'citizen microscopy' is facing in this country today, and why. Please note: Bring your own rotten tomatoes, because they will NOT be supplied for pelting the speaker during or after the presentation."
--------------------------
A Short CV of Glenn Shipley
Weds March 19, 2014 at 7:00pm, New Roads School (map)
The March meeting will feature Kristina Cheung, who will give a presentation entitled, "A Royal Maya Tomb under the Microscope! " Ms. Cheung is associated with the Archaeomaterials Group at UCLA. The following is a brief description of her program: Characterization of archaeological materials from a Royal Maya Tomb at El Zotz, Guatemala by scanning electron microscopy and x-ray microanalysis. The Title of her research paper is, "Analysis of samples excavated from a royal tomb in El Zotz: Application of materials science characterization techniques in archaeology."
Bring a friend if you know someone that is interested in Mesoamerican history.
The second half of our evening is always dedicated to the efforts of our members, do remember that if you have something to share with the group, please bring it and you will be given time after the break.
Weds April 16, 2014 at 7:00pm, New Roads School (map)
This month our guest speaker will be Dr. Karen Trentelman, a Senior Scientist with the J. Paul Getty Conservation Institute's Collections Research Lab. Her talk is entitled "The Application of Science to the Study of Works of Art in the Getty Conservation Institute."
The Getty Conservation Instuitute's Collections Research Laboratory (CRL) conducts scientific research relating to objects in the collection of the J. Paul Getty Museum and other cultural institutions throughout the world. CRL scientists use a wide variety of analytical techniques to study the composition and construction of works of art in order to address questions of authenticity, provenance, artist's technique and material stability. Works of art can be composed of a wide variety of materials, ranging from natural minerals to synthetic polymers, and the analysis of such diverse and complex systems typically requires the use of multiple complementary analytical techniques. Furthermore, because of the precious nature of the works of art, the removal of samples for analysis is strictly limited, if allowed at all. The recent development of portable non-invasive analytical methodologies has been of great benefit to the study of museum objects and by enabling the study of heretofore inaccessible objects. A number of case studies will be presented which demonstrate the application of science to the study and conservation of works of art.
Karen Trentelman is a Senior Scientist at the Getty Conservation Institute, where she directs the GCI's Museum Research Laboratory. Prior to joining the GCI in 2004, she was a research scientist at the Detroit Institute of Arts. She received a Ph.D. in Chemical Physics from Cornell University, and carried out postdoctoral research at Northwestern University and the University of Illinois, Chicago.
Weds May 21, 2014 at 7:00pm, New Roads School (map)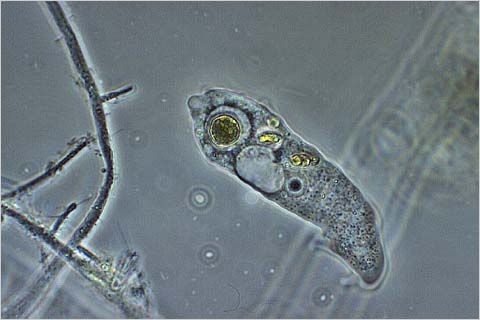 The Pond Life program is undoubtedly one of our best attended and most exciting hands-on meetings! Bring samples of pond water, ditch water, fountain water or anything that lives in water. Bring your own microscope or check out your water sample with one of the 'scopes on hands at the meeting. Keep your eye out for pond life water sources, we hope to have samples from all over southern California. This is a fun, hands-on meeting, and one at which we'll hope to see new and exciting discoveries.
Suggested equipment list: water samples, microscopes, illuminators and pipettes and tools to play with the water samples. (Extra microscopes are always a good thing to bring for guests to use.)
Check out the amoeba to the right, courtesy of www.micrographia.com.
Weds June 18, 2014 at 7:00pm, New Roads School (map)
This month our guest speaker will be Mark Armitage. His talk is entitled "Recent Contributions to the Discovery of Dinosaur Soft Tissue-Triceratops (Paleontology)." Please see the abstract below for further details.
INVESTIGATION OF DINOSAUR INTACT NATURAL OSTEO-TISSUE: This new presentation focuses on the recently launched CRS initiative to collect and quantify soft tissues in dinosaur bones. During excavation of a fossil site at the Hell Creek Formation, Glendive, Montana in May 2012, the largest Triceratops horridus supraorbital horn ever recovered from Glendive was jacketed and transported to California for microscopic analysis. The horn was discovered to be highly vascular, filled with moist matrix and featured both permineralized and unfossilized material. Subsequent to decalcification with EDTA, soft and hard remains were thin sectioned and examined by light and electron microscopy. Permineralized vascular vessels which remained after decalcification exhibited internal spherical structures consistent with size and shape of blood cells. Soft tissues collected from deep within the horn yielded heavy populations of layers of osteocytes. Osteocytes featured delicate filopodia and internal structures consistent with nuclei and other organelles. Soft sheets of fibrillar bone examined under Scanning Electron microscopy were characterized by groupings of tightly aligned osteocytes, widely connected via filipodia with widths approaching 500nm. Results of this study conform to previous soft tissue studies in ancient materials and strongly suggest that this is endogenous dinosaur tissue. Reaction to this discovery has been mixed.
Weds July 16, 2014 at 7:00pm, New Roads School (map)
This month our guest speaker will be Dr. Brian Matsumoto. His talk is entitled "Flourescent Microscopy."
Fluorescence microscopy is a powerful research tool for the cell biologist. When properly used it can visualize molecules that are smaller than the limit of resolution of the light microscope. When coupled with appropriate staining procedures it is used to localize specific molecules and organelles within the cell. These two attributes have made this type of microscope a powerful tool in the clinical as well as the research laboratory.
We will be holding a workshop on how to use this microscope. It will be a hands-on demonstration that will show the parts of the microscope, how to replace and align the mercury bulb, and safety procedures when using this type of instrument. Included with the demonstration will be a chance to view cultured human cells that have been staying for actin, tubulin, and DNA. In addition a slide showing mitochondria will also be presented. This workshop will have a modern Olympus fluorescence microscope and if time allows, a comparison will be made between this model and a Zeiss epifluorescent microscope. We thank Olympus for the use of the microscope for this demonstration.
Dr. Brian Matsumoto is a retired Adjunct Associate Professor who directed the Integrated the Microscopy Facility at the University of California at Santa Barbara for 17 years. During this period he refined his skills on fluorescence, differential interference contrast, phase contrast, and dark field microscopy and their application to cell biology. He has authored peer-reviewed research papers that used the above technologies as well as edited two books on confocal microscopy and written one book on digital photomicrography. In addition, he is experienced in correlative light and electron microscopy (transmission and scanning). He has 40 years of microscopy experience and has taught graduate courses in microscopy.
Weds, August 20, 2014 at 7:00pm, Projection room at NT Audio, 1833 Centinela, Santa Monica, CA 90404-5002 (map - in the complex next door to New Roads School). Please park in the back if all the spots in front have been taken.

This month we will be hearing from one of the Country's leading innovators in advanced imaging from USC, Dr. Bruce Zuckerman, who with his brother Ken Zuckerman, will be giving a talk entitled, "Reclaiming Ancient Texts with High Tech-Imaging."

"Employing Imaging Technologies to Reclaim the Dead Sea Scrolls and Other Ancient Texts from Biblical Times"
Dr. Bruce Zuckerman is Associate Professor of Hebrew Bible, School of Religion at the University of Southern California. Bruce Zuckerman is a scholar and teacher of the Bible and ancient Semitic languages. Both are specialists in using sophisticated imaging technologies to document a wide variety of ancient inscriptions, will discuss and illustrate various approaches they employ for reclaiming otherwise indecipherable texts from biblical times—with special emphasis on the Dead Sea Scrolls.
Weds, September 17, 2014 at 7:00pm, Wildwood School in West LA, 11811 Olympic Boulevard, Los Angeles 90064 (map). Access is on Mississippi (one block north of Olympic) between Westgate and Grandville.Enter the alleyway between Westgate and Grandville on Mississippi and there is covered parking.
This month our guest speaker will be Z.Hong Zhou Ph.D. from UCLA's Electron Imaging Center for Nanomachines (EICN).
Mr. Zhou talk is entitled, "Seeing atoms of life by electron microscopy."

Weds October 15, 2014 at 7:00pm, Wildwood School in West LA, 11811 Olympic Boulevard, Los Angeles 90064 (map). Access is on Mississippi (one block north of Olympic) between Westgate and Grandville.Enter the alleyway between Westgate and Grandville on Mississippi and there is covered parking.
This month is our annual TRADE & SALES Meeting. Bring items to trade or sell. Its time to get rid of the "stuff" you're not using anymore. If you don't have extra equipment that you need to sell or trade then just come and see if there is something on the tables that you have been looking for or something you just must have.
Weds November 19, 2014 at 7:00pm, Wildwood School in West LA, 11811 Olympic Boulevard, Los Angeles 90064 (map). Access is on Mississippi (one block north of Olympic) between Westgate and Grandville.Enter the alleyway between Westgate and Grandville on Mississippi and there is covered parking.
This is the annual Exhibition Meeting of the Society. This is one of the best events of the year and is a great deal of fun. Each member is encouraged to bring along an exhibit to share. Anything associated with microscopic subjects is welcome. Your exhibit could be simple, for example you could set up your microscope with your favorite slide. A projector will be provided for those bringing 35mm slides. Posters and display boards are also encouraged, along with the usual sales table. Please remember to bring a label or piece of paper with a brief description of your exhibit.
No December meeting, instead the MSSC Holiday Banquet, Sunday December 7, 2014 at at Earth Wind and Flour Restaurant 5 - 9pm.
Come and celebrate the completion of another wonderful year with fellow MSSC members. All members and their guests welcome.
The Holiday Banquet is set for Saturday, December 7th 2014. The gathering will be at the Earth Wind & Flour Restaurant, 2222 Wilshire Blvd., Santa Monica, CA 90403. Phone 310 829-7829. Please bring cash as there will be no individual checks. Dinners are about 10-20 dollars + 20% tip depending on what you order from the menu.
After dinner, MSSC member, John Field, will give a presentation entitled, "George E. Hale and his microscope." Hale (1868-1938) was an American Solar Astronomoer who invented the Spectrohelioscope.
RSVPs required by Dec. 4th to MSSC President, Jim Solliday jlsolliday @ roadrunner.com.