Weds January 16, 2013 at 7:00pm, New Roads School (map)
Our first gathering for 2013, will highlight guest speaker,Tom Jones, a long time professional in the field of Clinical Microscopy. Mr. Jones provided this abstract for his talk: "The Clinical Laboratory is an unknown to most people, including those who work in other areas of medicine. We tend to be a black box that no one understands, kept hidden in the basement. Yet at some point everyone needs, and gets, laboratory testing. This is a presentation designed for students as an introduction to Clinical Laboratory Medicine, both as an area of medical science, and as a career choice. As part of my outreach activities I have presented this information to students in anatomy and physiology, freshman biology, AP biology, and chemistry classes, as well as science teachers associations in the Riverside-San Bernardino County areas. The talk includes basic information on clinical laboratory specialty areas, testing basics, and quality management practices. I provide a photographic overview/tour of the clinical laboratory at Arrowhead Regional Medical Center in Colton. It is owned and operated by the County of San Bernardino. ARMC is a Level II Trauma Center, and the second busiest Trauma Center in California. The last part of the talk is a slide show of micrographs I've taken showing various infectious agents, including bacteria, parasites, leukemia and cancer cells, demonstrating the wide variety of conditions encountered in a large clinical laboratory."
Weds February 20, 2013 at 7:00pm, New Roads School (map)
This meeting's guest speaker will be Dr. John Izbicki (USGS), who will be discussing the use of Scanning Electron (SEM) Photomicrographs to interpret large scale hydrologic data. Dr. Izbicki will cover interpreted changes in groundwater chemistry with respect to trace-element occurrence, carbon-14 ages, and the physical performance of wells. His presentation will also feature images of minerals weathering or precipitating in groundwater systems.
Weds March 20, 2013 at 7:00pm, New Roads School (map)
Members who were at our January meeting we were privileged to see some of the latest video microscopy of our talented member Dr. Richard Weinberg, Research Associate Professor USC School of Cinematic Arts. Dr. Weinberg demonstrated crystal growth of a very interesting type of plant food. The images and patterns were spectacular and motivated some of our members to inquire on how they could duplicate the experiment. This month Dr. Weinberg will elaborate and bring us up to speed with his ongoing work.
In 2012, Dr. Weinberg's team won the "Innovations in Networking Award," Experimental/ Developmental category, for the project "Digital Cinema Microscopy" from CENIC, the Corporation for Educational Network Initiatives in California. The project streamed live, ultrahigh definition video at 4k (quad HD) 60 frames per second, from a microscope at USC in Los Angeles to an audience at the Tokyo International Film Festival in Japan via high speed optical fiber networks. Dr. Weinberg will describe this project and the origins of digital cinema microscopy, screen his earliest digital cinema microscopy movie, "In the Pond, Through the Microscope" and other movies, including a new version of "When Crystals Collide."

For the second half of our meeting, MSSC educational chair, Alan deHaas will provide some instruction on LED illuminator calculations with the aim of helping everyone make their own illuminator. DeHass will bring with him a selection of LED's, resistors and switches to share.
Weds April 17, 2013 at 7:00pm, New Roads School (map)
This month our guest speaker will be Craig Smith, from Insight Scientific Films. Craig will give a lecture featuring projected clips of his work along with a commentary focusing on aesthetics and technical information. He will also show an HD clip of the new "Wonders of Life" BBC documentary with Prof. Brian Cox showing work which has not yet been released in the US.
Mon May 13, 2013 at 7:00pm, New Roads School (map)
NOTE: This meeting will be on MONDAY MAY 13, not our usual third Weds of the month.
This meeting will feature Dr. Brian Ford on Solving the Mystery of Human Spontaneous Combustion.
The burned out body of Danny Vanzandt was recently found in Muldrow, Oklahoma. According to Sequoyah County Sheriff Ron Lockhart, Mr Vanzandt may be the latest victim of spontaneous human combustion. The phenomenon of spontaneous human combustion (SHC) has been widely dismissed as a myth, and TV programs have used spurious science to try and explain it. Using model systems based on the metabolism of single cells within the body, Professor Ford has now revealed a novel mechanism that accounts for the documented observations, and this dramatic presentation includes real-time recreations of scale models that vigorously combust.
Brian J Ford's 30-plus books are well known around the world, and his theory on SHC was first reported in his book Genes (1999). Recently he announced the results of experiments using scale models, and the work has been cited internationally. Spanish TV produced a report, and the Discovery Channel have just been filming his experiments.

Weds June 19, 2013 at 7:00pm, New Roads School (map)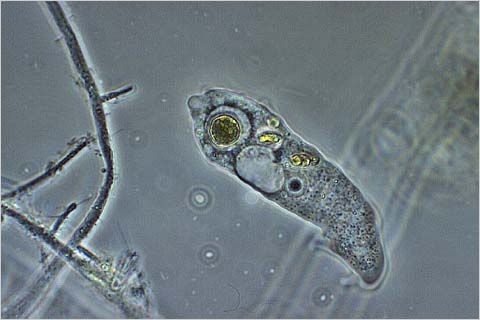 The Pond Life program is undoubtedly one of our best attended and most exciting meetings! Members are strongly encouraged to bring pond water, ditch water, fountain water or anything that lives in water. Microscopes, illuminators and pipettes and tools to play in the water are required.(Extra microscopes are always a good thing to bring for guests to use.) Check out the amoeba to the right, courtesy of www.micrographia.com.
Weds July 17, 2013 at 7:00pm, New Roads School (map)
This meeting will feature Prof. Brian Matsumoto on Old and New: Color Heine condenser and HD video. Below is Prof. Matsumoto's abstract:
Still photographs and videos are used to record microscopic specimens whose beauty can be enhanced by recording in color. To this end, we will discuss using a rare condenser, the Leitz color Heine that can provide either a dual color phase contrast or a bicolor dark field image. It is generally believed that only 300 of these condensers were made and I do not know of any peer-reviewed publication describing their use in cell biology. A few photomicrographs made with the help of this condenser can be found on the Internet and I know of only one published plate made by this condenser (John Field, THE LEITZ ORTHOLUX MICROSCOPE: A STUDY AND CELEBRATION, pg. 92 (2007)).
The discontinuance of the manufacture of this condenser may be due, in part, to its inefficiency in concentrating light onto the specimen. Its two annular rings of light are narrow slits and admit a fraction of light transmitted by the annuli of the Zernike-type condenser produced by Leitz, Zeiss, Olympus, Nikon or Reichert. These condensers generate a bright image and are suitable for recording living specimens. The inefficient light transmittance of the color Heine is of little significance when imaging stationary specimens, such as diatom frustules and radiolarian tests. For immobile specimens long exposure times are used. However, when recording moving live specimens, shutter speeds longer than 1/30 of a second are unacceptable since specimen movement blurs fine details. Although the gain of the camera can be raised to shorten the exposure time, this is unsatisfactory in that the recorded image has high levels of noise, which obscures fine detail. However, by using cameras that can record HD videos, it is possible to routinely use high ISOs of 1600 to 3200 for recording images. Recorded videos show little noise and the cameras can record the dynamics of microorganisms. The use of the color Heine with HD video provides an example of the benefits of combining older optical designs with modern techniques.
Weds, August 21, 2013 at 7:00pm, USC School of Cinematic Arts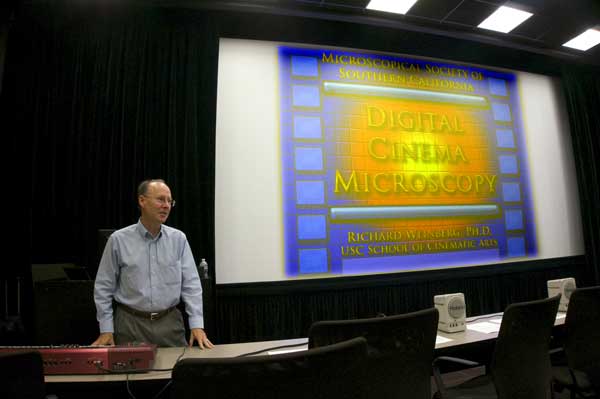 This month's MSSC meeting will be hosted by Dr. Richard Weinberg at the USC School of Cinematic Arts. We will meet in one of the School's digital movie screening rooms to view movies shot through a microscope at 4k and HD resolution. Richard will present some of the movies that he has shot with a RED One and Epic camera at 4k through an Olympus BX50 and Reichert Jung Ultrastar microscope. These will include movies of microorganisms and time lapse crystal growth. In addition, Dr. Brian Matsumoto and Carol R...oullard will present some of the movies and still images from their research and artwork. This evening's presentation will give our members a chance to view these movies and images with high quality digital projection on a large screen, which will reveal details that are not apparent in our usual setting. Join us at the USC School of Cinematic Art's new campus for an exciting evening of microscopical movies!

Location:
USC School of Cinematic Arts
Building SCB, Room 104 930 West 34th St.
LA CA 90089
note: Some GPS systems might not recognize this address. If so please use 850 West 34th Street in your GPS.

Please use either Gate 4 and park in Parking Structure D, or Gate 8 and park in Parking Structure B. If guests have difficulty finding the location, please call our operations office at 213-740-2892.Parking is $10.
Image by Carol Roullard, MSSC
Monday, September 23, 2013 at 7:00pm, New Roads School (map)
NOTE: This meeting will be on MONDAY SEP 23, not our usual third Weds of the month.
Special Sales Meeting. Every year we try and have at least one meeting that members can bring in the items they would like to trade or sell. This gives everyone the chance to see what others have available and the opportunity to offer items they no longer need. Everyone who has stuff to exhibit and sell will be provided a table. If you have nothing you would like to offer, then just bring your checkbook in case you find that bit you've been looking for and have not yet found. Suggested items for sale include antique microscope items as well as modern scopes and accessories. Also, don't forget the books, there will be room on the tables for books on science as well as microscopy.
Weds October 16, 2013 at 7:00pm, New Roads School (map)
This meeting will feature Jay (Xiaoze. Ou), from the Department of Bioengineering, California Institute of Technology on "Wide field-of-view microscope based on holographic focus grid illumination." The talk will introduce members to a new system capable of imaging an entire microscope slide. CaTech have developed a new microscopy design that can achieve wide field-of-view (FOV) imaging and yet possesses resolution that is comparable to a conventional microscope. In this design, the sample is illuminated by a holographically projected light-spot grid. Images are acquired by translating the sample across the grid and detecting the transmissions. The prototype system's resolution is limited only by the spot size which has a FWHM-spot diameter of 0.74 μm. Automated, high-resolution, and cost-effective wide field-of-view (FOV) microscopy is highly sought for many applications, such as high-throughput screening and whole-slide digital pathology diagnosis. In a conventional microscope, the FOV is inversely related to the microscope objective's resolution due to the critical requirement of aberration correction for the whole viewing area. Commercial products for accomplishing wide FOV imaging typically raster scan the target samples under microscope objectives and reconstitute full-view images from multiple smaller images. This approach requires precise mechanical actuation along two axes. Scaling up the FOV for such an approach requires a linear cost increase or longer scan time. Recently, exciting in-line holography methods demonstrated the potential to cover a wide FOV image very cost effectively and without requiring sophisticated optics and mechanical scanning.
Weds November 20, 2013 at 7:00pm, New Roads School (map)
This is the annual Exhibition Meeting of the Society. This is one of the best events of the year and is a great deal of fun. Each member is encouraged to bring along an exhibit to share. Anything associated with microscopic subjects is welcome. Your exhibit could be simple, for example you could set up your microscope with your favorite slide. A projector will be provided for those bringing 35mm slides. Posters and display boards are also encouraged, along with the usual sales table. Please remember to bring a label or piece of paper with a brief description of your exhibit.
No December meeting, instead the MSSC Holiday Banquet, Saturday December 14, 2013. at Earth Wind and Flour Restaurant 5 - 9pm.
Come and celebrate the completion of another wonderful year with fellow MSSC members. All members and their guests welcome.
The Holiday Banquet is set for Saturday, December 14th 2013. The gathering will be at the Earth Wind & Flour Restaurant, 2222 Wilshire Blvd., Santa Monica, CA 90403. Phone 310 829-7829. Please bring cash as there will be no individual checks. Dinners are about 10-20 dollars + 20% tip depending on what you order from the menu.
RSVPs required by Dec. 7th to MSSC President, Jim Solliday jlsolliday @ roadrunner.com.