Microscopical Society of Southern California


Program of Events
---

The Society holds its monthly meeting on the third Wednesday of every month. The program starts at 7:00p.m. The first part of the program consists of a formal lecture/presentation and usually lasts an hour and a half, after which there is a short refreshment break. Ideas expressed by speakers at these meetings are their own, and do not neccesarily represent those of the MSSC. The second part of these monthly meetings is alway open to presentations from MSSC members, and a time to share projects and interests with the group. Presentations need not be formal or extensive. If you have something you wish to share at a future meeting, please contact the MSSC President. The meeting closes no later than 10:00p.m. Meetings are open to everyone.
Workshops are held on the first Saturday of every month 9:00a.m. -12:00p.m. There is also a quarterly "hands-on" practical workshop held on the last Saturday of the month. The workshops are open to MSSC members only. For details of the Workshops, please click here (members only, password required)
Meetings and workshops also include a sales table and "show and tell" presentations by the members. Refreshments are served at all events.
The MSSC has an ongoing need for interesting speakers for our monthly meetings. Topics could relate to the technique, history, applications, subjects or art involving microscopes. We are open to anything that is interesting or remotely related to microscopy. This could be a good way to practice a new speech or presentation before a friendly and interested group. The meeting room has a wall screen, blackboard,Carousel projector, and other items can be made available to assist you in delivering your presentation. Please let us know your needs.
If you are able to speak to our group, or if you would like to simply attend a meeting, please contact the Program Chair (see Contacts)
---
WHAT'S NEW? / MSSC HOME PAGE / MSSC HISTORY / PROGRAM SCHEDULE /
ITEMS FOR SALE / NEWS AND EVENTS / ARTICLES & RESOURCES / CONTACT US / HOW TO JOIN / LINKS / MEMBERS AREA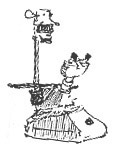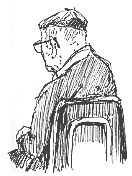 Cartoons by Nirvan Mullick
Site created and maintained by Leonie Fedel
Please email comments
© MSSC